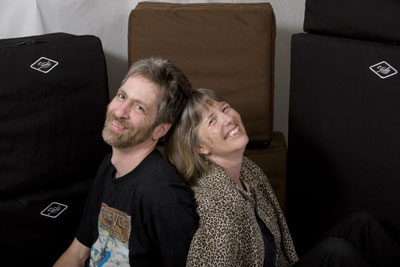 The History of Studio Slips
I first got involved in the music industry back in the beginning of 1980 when I became Traffic Manager for Mesa Boogie. This was just before they moved from the legendary garage in Lagunitas into their warehouse in Petaluma, California.
3 years later, I left Mesa Boogie to marry Mesa Boogie's Chief Technician, Michael Bendinelli and start our family. We now have 3 teenaged boys: Cole, Thomas and Dillon.
I began my little cottage industry making protective covers in my home. My first covers were made for Mesa Boogie amps, of course, but word quickly got around, and I soon found myself making covers and bags for all types of equipment. We now have over 2000 patterns for amps, speakers, mixers and other musical gear, as well as hospital equipment and even automotive equipment. If you can measure it, we can cover or bag it.
By the year 2000, the business had grown so much that I could no longer manage it all from home, so I moved the entire Studio Slips operation into a warehouse with several thousand square feet of additional space.
In order to keep up with demand and maintain the quality of our product, and provide the old fashioned customer service our customers expect, I had to take another giant step forward. So, in 2004, we retooled our production facility to incorporate Computer Aided Manufacturing. We still sew everything the old fashioned way, but the rest of the process, from pattern making to fabric cutting is now handled by state of the art technology.
We have come a long way since 1992, but our commitment to detail and guarantee of customer satisfaction still remain our top priority.
Thanks for checking out Studio Slips
Susan Bendinelli, Owner